Recently I'd gotten some problem using my Treo, first it started off when I used Destaller Lite to delete Power DA, it prompted to ask for a soft reset in order to proceed. After a reset, my Treo had lost Hotsync ID and several applications pre-loaded automatically prompted and said they'd already expired, please register, thanks. I'd this situation long ago, I just simply did a hotsync with the desktop and select the username then everything would set. Sadly, I never realized to backup from Mac by hotsync is another story. It installed EVERYTHING for me and many applications were repeated here and there and ended up another soft reset…Therefore, a part of the whole story was written in the previous blog. And I think I was slow to this, I would have emptied the backup folder content before I did a hotsync. Why I didn't think of this?? "A mystery never explained". Anyway, the Treo refused to turn on radio on its own as set by TreoGuard as usual. The radio still refused to turn on when I long press the ON button…
OK, enough for the complains, I decided to do a clean installation for most applications rather than restore device by BackupMan. As I like to test out different applications on my palm, the Treo is now inevitably becomes my 'test drive' for this purpose (unfortunate Treo!). Until then, something stubborn and did not deleted were remained there to mess up the system. Think in a better way, I have this opportunity to do a "spring cleaning", and now I have an idea to really decide which applications are must-have and always remain in it. Based on this, I can make a clean backup using BackupMan. Over sometime when data going to accumulate and things started to go wrong (crashes again!), I can always go back for this 'virgin' backup. Many other databases can then be copied on card using file manager, and later import to overwrite. Do you get the idea?
What I did was as follows:
Preparation before hard reset:
1. I have tons of memos. I backup memo into other palm device (or spare palm any name you like) by beaming MemoDB.pdb over from Treo, or choose to export memo from Palm Desktop and save a copy. I will prefer the former as this way will preserve the whole things. I hate the categories being messed up by unknown reasons.
2. Make a separate copy of Backup folder, and delete the username (Hotsync ID) from Palm Desktop.
3. As I syn using the sophisticated iSync solely for Mac, I won't have to do another exportations for datebook and tasks.
4. Using FileZ (I must say FileZ is far superior than FileProg, despite the fact that FileZ is difficult to use if without a stylus, other than that everything is fine) and from Options select "Send Tree to Memo", I get a list of every applications I've installed at a glance. But it's always good to view a little long list in a desktop computer huh? I am a fan of PsMemo, and the author has another piece of application called PsDB, in which I can have the option to "Send to PsDB" from PsMemo. This generate csv file in memory card, of the directory /Palm/Program/CSV, and can be viewed in Excel. This list can let me decide what shall I retain or get rid forever after the hard reset.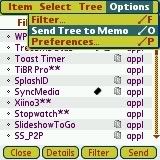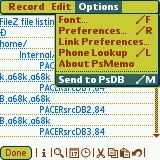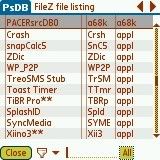 After these preparation done, I can now do a hard reset. Seeing the list I have made in Excel, it's very clear what to install from the Backup folder which I'd saved in a separate copy. After applications restoration almost done, it's time to make iSync conduit works. Let the Treo synchronized a while, it really takes sometimes to complete. Although it's very troublesome to do this kind of work, but it's worth in order to make platform more stable.
One Response to "Spring cleaning and data backup"
It looks like there are a lot work to do to save the Treo. I'm still not confidence to use a smartphone. So many software installed, and the system will not be stable.

It reminds me the programmers behind those applications. It really depends on their programming experience. Some people may can start write a Palm application in a few months. I'm not sure if those paid software undergo extensive test before releasing. But it's the programmer's responsibility to make sure he/she understand Palm very well before publish software to public.
Leave a Reply
You must be logged in to post a comment.